25 Sep

5 Tips For Changing The Look Of Your Home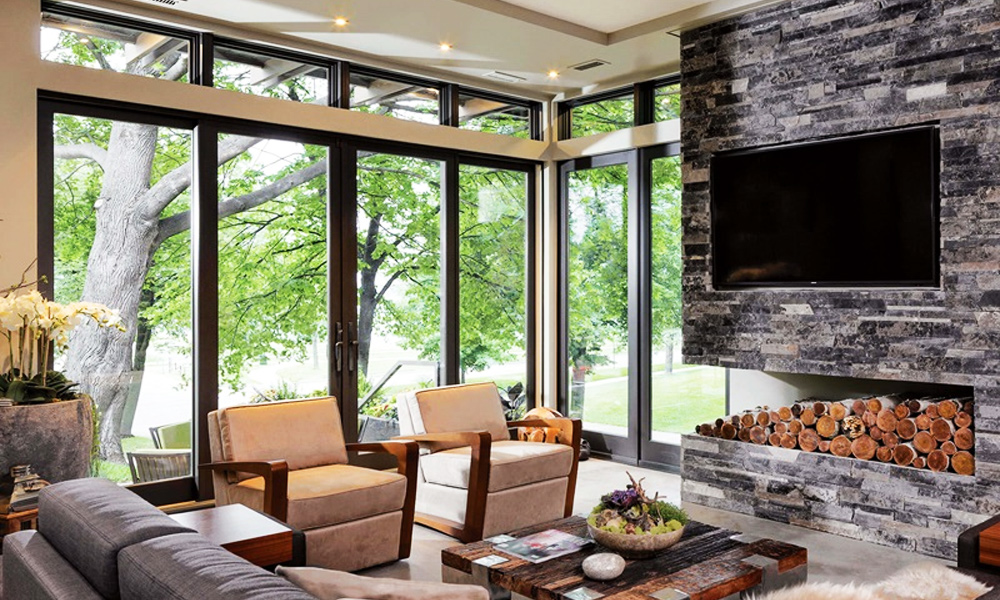 We get a lot of calls from customers doing a home makeover. Usually it's those who, after living in their lovely home for a few years, are looking to change things up a bit. Occasionally it's the new homeowner calling and, now that they have the right place, they want to put their own stamp on it.
Coming up with ideas for changing the look of their homes is one of our favorite projects. With the huge number of styles, colors and finishes, home makeovers give us the opportunity to step outside the box a little and get our creative juices flowing. Here are a few of our favorite ways to freshen up an existing home with some new look windows and doors.
Our top five tips for changing the look of your home are:
A new entryway door to brighten your home
Bring in light with bay and bow windows
Different window frames to change the look of your home
Sliding doors to open things up
A specialty window or two can provide unique style
Let's take a closer look at each top tip.
A New Entry Door Brightens Any Home
Take a step back and look at your entryway door the next time you get a minute. Does it do justice to the home? Does it invite people in or welcome them when they arrive?
Your entry door is one of the very best ways to announce your personal style before company even enters your home. It's also a great way to bring light and character to the inside of your home. Maybe one with a lot of glass which will pull light into the hall? The range of different entry doors we stock gives you plenty of choice on style, colors, and solid or glass entryway doors.
It will surprise you how much difference a stylish entry door can make to the entire front of your home.
Bring in Light with Bay and Bow Windows
Looking for that wow factor which is also very practical? For both bringing in natural light and providing ventilation, Bay and bow windows are a really popular choice.
Bay and bow windows change the look of your home by creating depth and visual interest. They make a bold statement by standing out from the house and catching the eye of guests. Inside the home, bay and bow windows pull in more natural light to a dark room. They also create a beautiful place to sit and watch the world go by during the day.
Can you think of a more delightful place to sit while reading, or sipping a glass of wine on a summer's evening?
New Window Frames Can Change Your Whole Look
If you wear reading glasses, you probably have a good idea of exactly what we mean here. When you change the frames suddenly everyone is commenting on how great your glasses look. You can get a similar effect by changing the look of your window frames.
When doing a complete home makeover, always consider the benefits of changing the look of your window frames. Depending on the material you choose, you can not only change the color and style, you can even increase the size of your viewing area by reducing the size and thickness of your window frames. Fresh frames, in just the right shade and design will look perfect, and brighten the appearance of your home.
With a variety of brands and materials, we have an unmatched range of choices of frame styles, materials, and colors which will suit any style.
Sliding Doors to Open Up Your Home
If you have a beautiful outside, why not enhance your home by showcasing that beauty on the inside? Sliding doors can provide you with beautiful, and energy efficient, options to give the impression of greater space as well as as amazing views. You can even slide them back on a warm day and invite the garden into your home. On colder days you can close the doors, but still appreciate the scenery.
Our beautiful selection of scenic sliding doors have the ability to transform the look of your home.
Add a Specialty Window or Two
Do you have a blank wall that would benefit from some additional light and a little bit of extra style? Maybe you have a space between your entry door and an upstairs window or a side wall which is just too plain. Why not open things up a little with some extra light or air flow?
Our specialty windows come in a variety of shapes and sizes and they can be customized to fit just about any space. They also come in a variety of window materials so you can get the window and color you want and at a price that will fit into your budget.
Options are Almost Endless
These are just a few of our most popular ways to change the look of your home but there are plenty more. If you're looking for some more creative ideas, give us a call or send us a message for a free consultation.