29 Nov

Choosing Stylish Entry Doors For Your Home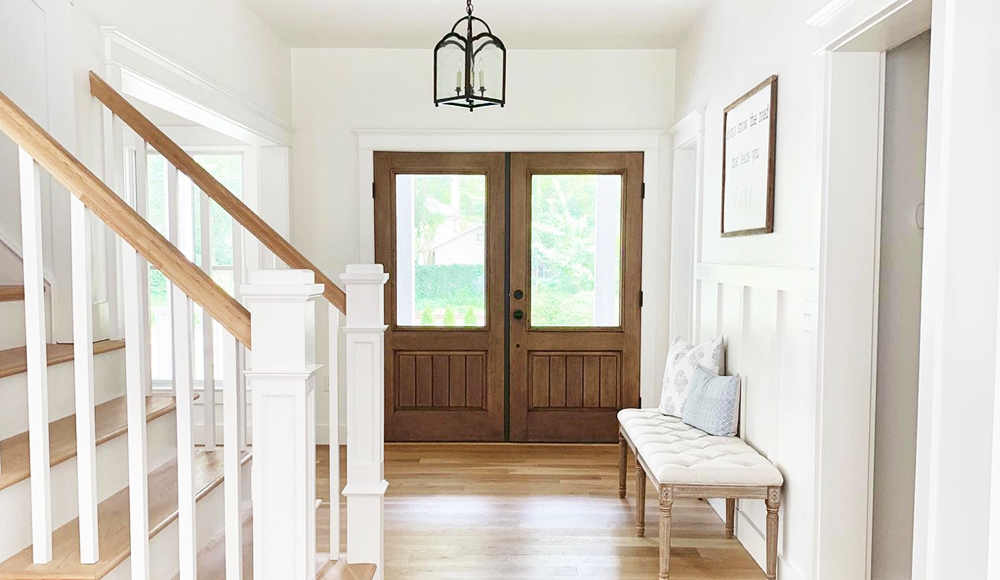 A stylish front door is the perfect finish for your new build. It's also a great way to give a fresh new look to your existing home. Whatever type of project you're planning, we can work with you to make sure you get the stylish front door that fits your home design and your budget.
Let's take a look at the most popular options for your home entry door.
Traditional wooden entry doors
Fiberglass composite front doors
Modern steel entry doors
Wood-edge steel doors
Wood Entry Doors
Wood entry doors remain popular and there are a number of reasons why. They're beautiful, offer a lot of variety in terms of styles, colors and finishes. They also provide almost unlimited options with regard to customization.
The downside to wood is wear and maintenance. They require a bit more care than fiberglass and steel doors and are more susceptible to water damage such as warping and swelling. They can also be a bit more costly when you're looking at the higher end offerings.
Fiberglass / Composite Entry Doors
We carry a number of different fiberglass composite door lines and tend to sell more of them for several reasons. They're extremely durable with very low maintenance requirements and hold up very well in harsh climates. Additionally, the number of colors, finishes and stain options enable you to get a door that looks just like a similar wood door but without the maintenance requirements.
The Therma-Tru line of entry systems is our most popular and gives you a very affordable door that features the beauty of wood and all the style and design options you could possibly want. They even look like wood with the embossed wood-grain patterns. Compared to a custom wood door, you get an economical alternative that looks just as good but without the fear of moisture damage.
Steel Entry Doors
When it comes to security, steel doors are probably the toughest around. We're not talking plain old steel panel doors either. We offer a number of lines of beautiful steel entry doors with color and finish options that will surprise you. Like fiberglass doors, these require less maintenance than a wooden door. They also have plenty of options when it comes to glass and frames.
While they are generally the most economical of our stylish entry door lines,  you won't need to compromise on style as much as you might expect. Take a look at the Therma-Tru Profiles line of steel doors and you might be surprised at the available designs.
Wood-Edge Steel Doors
If you want the durability and security of steel but love wood accents, this can be a very nice option. They hold up well to our Midwest weather and offer the maintenance benefits of your typical steel door.
The fully insulated foam core also insulates well for excellent energy efficiency. Due to the wood components, however, they typically don't carry the same warranty as full steel doors.
Visit our Showroom
Whatever your needs, the best way to decide which door type is for you is to look at your options. We have dozens of different styles, colors and designs on display in our showroom. Stop by and see us and we'll walk you through some of the different lines to see what fits your project.