07 May

Changing the Look Of Your Home with New Doors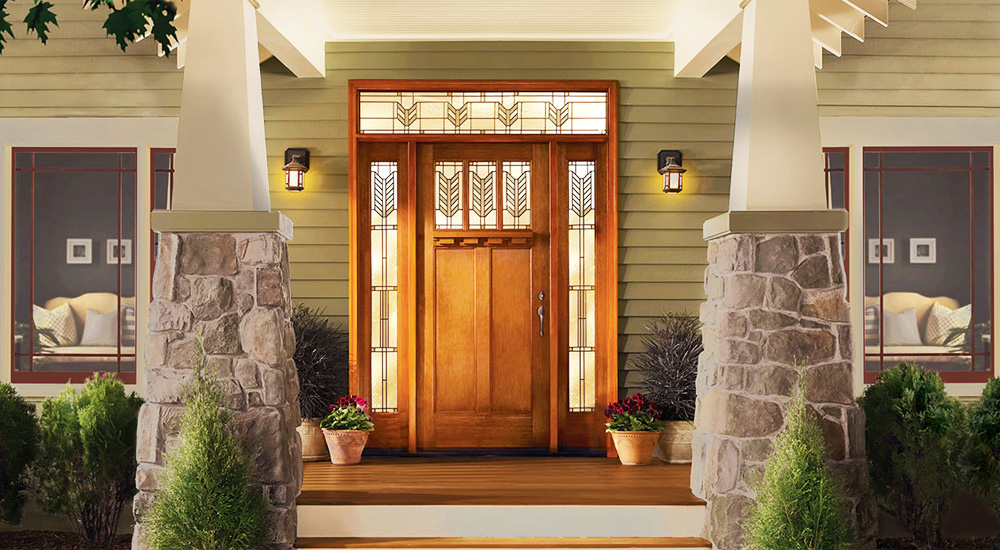 We had a customer call us recently with a bit of a problem. "I just cannot get the doors to our home right," she said, with a lot of despair in her voice. It's a complaint we hear a lot. The wrong doors will take away from the look of your home. Secure doors can look grim, and the wrong color or style is very off-putting. Finding that balance between safe and welcoming is not easy. At Quad City Windows we love to help, learning from our years of experience with clients. We asked around the office, looked at a lot of our work and came up with a few ideas help our client. She is now a happy one.
Our tips to changing the look of your home with new doors include:
Glass panels for extra light
A splash of color goes a long way
Sliding doors give plenty of options
A swinging patio door welcomes guests
Mix it up for extra style
Let's take a closer look at each tip, to help you get it right.
Glass Panels for Extra Light
A stark front entry door may look secure, but it can be very off-putting too. It is telling people to stay away and do not disturb the house.  By installing a door with glass panels, you can add extra light without compromising your security. Styles such as the single glass panel, down the middle of the entry door, will draw in plenty of light. A well-placed lamp inside the home will shine a welcoming light at night for guests. It amazes people when they see a glass panel door and how much it changes the look of their home.
A Splash of Color Goes a Long Way
Along with a door with decorative glass panels, why not consider a splash of color? While it does not need to be an outrageous shade of pink, the right color can showcase your personal touch. A subtle matching with the color of the walls will highlight the door, and can change the overall look of the home.
Combining a new color with an attractive design in the glass panel is eye-catching. Compliments will flow as friends and family notice the new look.
Sliding Doors Give Plenty of Options
Is the door to your patio or deck area that bit bland? Do you look at it and think: how can I improve the look of my back yard? A sliding door often solves a lot of problems. They slide seamlessly open and bring in light, fresh air and summer scents from the garden. You will hardly notice them when coming and going, yet they will shut securely when the day is over.
We offer a range of styles, designs, and colors to match any home décor. You can even start a scheme of your own by developing it around your new doors. Opening up the rear of your home is an easy project with sliding doors.
A Swinging Patio Door Welcomes Guests
Add plenty of traditional style to the patio area with a swinging patio door. Nothing welcomes guests to the home than you throwing open the wooden patio doors. You can stain the door's interior to match the room's color, while the toughened exterior will withstand all climates.
When you have beautiful views of the garden, or the local scenery, you do not want to hide them away. A tall swinging patio door, we offer heights up to 8-foot, gives unobstructed views when open or closed. The style is unmistakable and will change the look of your home.
Mix It Up for Extra Style
Don't be afraid of putting your stamp on the style of your entry doors. Decorative glass panels come in plenty of colors and designs for you to find the right style. Mixing subtle color schemes really can change the look of your home for the better. Mixing the strong feeling of a wood door with a decorative panel is a good compromise on a solid-looking entry door. You can get trapped in following the one color or style. Mix it up for a change.
Doors Can Make a Big Difference
Do not make the mistake of ignoring your doors. Be it stylish patio doors or an elegant front entry door, you should make them the focal point of your home. We recommend you go with quality, security, and style when choosing your exterior doors. Bring the light into your home, add a touch of color to the exterior but keep the family secure. You can do a lot for your home's beauty and curb appeal with the right new doors.